Death Race 3: Inferno Blu-ray Review
Summoning back his cast from Death Race 2 and adding a few new faces, Director Roel Reiné keeps his series going with Death Race 3: Inferno a wild ride of explosions and fighting. While it's not Jason Statham in the lead role, Luke Goss does a great job in bringing solid energy to the main character. Now on Blu-ray with both a rated and unrated no holds barred version, the action sci-fi adventure drives a thrill a second.

Being a fan of action flicks Death Race 3 does a nice job of creating a lot of havoc on the screen for me. In this sequel we find owner Weyland (Ving Rhames) of the live computer entertainment venue that has millions of followers selling off his rights to his prison race with a top prize to jailbirds of win five and go free. But new owner Niles York (Dougray Scott) wants to take the race out of the prison and move it around the world setting up impossible odds for Frankenstein (Luke Goss), the top driver in this gritty killing bonanza, who has just one more race to win his freedom.

The kick-butt film has new more high powered vehicles armed with flame throwers, rocket launchers, machine guns and other weapons on the ten contestant's cars and Director Roel Reiné make sure there's enough explosions and mayhem to fill two movies. The South African course has separate tracks for the three day runs in rough terrain that even the Baja vehicles would have difficulty completing and with only a few days to alter the vehicles from street to off road it becomes a challenge. It's on big blast in the sand, rocks and sun and Reiné makes sure that his views get a big show.

The cast of familiar faces that make up Frankenstein's crew include Danny Trejo (Machete) as Goldberg the top mechanic, Taint Phoenix as Katrina Banks co-pilot and Fred Kohler as the tech-master who plots, plans and computerizes the vehicle. It's a fun crew that adds some comedy to the otherwise chaos filled movie. Sure there's some corn ball stuff going on in the film, but not enough to distract from all the great action.

BONUS FEATURES:
"Alternate Opening" Actually I liked this opening better as I gives more information on the previous film. I suggest watching this one then go into the film whether it be the theatrical version or the gutsy unrated one.
"Deleted Scenes" are awesome and probably were taken out of the film for it's length.
"Deleted Shots Montage" here you see the scenes in a fun montage that I actually played a second time. Trust me, do not watch this until you have seen the movie.
"The Making of Death Race 3: Inferno" an excellent behind the scenes look at how the film came together. Having been on film sets, this one gives a gloss over, but a pretty good education of how things go together.
"Racing for Death" goes into the vehicles.
"Art Imitating Life: Goldberg" the best and most sincere of any bonus feature, this one goes into the life of Danny Trijo my favorite movie wild guy.
"Feature Commentary with Director Roel Reine" I didn't get a chance to turn the commentary on for this one before writing this review, but you can be sure I will be watching the film with Roel's comments the next time I view it.
"My Scenes" you can pause and click the scenes during the film and it will save them for future viewing.
There is a "Digital Copy of Death Race 3: Inferno - Unrated Version" that must be downloaded by April of 2015
The extras also include UltraViolet that must be used by April of 2015.

The video quality is awesome played through my Blu-ray to my HD Television. The scenes are clear and clean with no pixilation or grain. Close ups are sharp, the explosions look real and the interior shots well lighted.

The audio featuring DTS-HD Master Audio 5.1 (DVD- DTS Digital Surround 5.1) is impeccable played with my sound system. Crystal clear audio it is fun to hear missiles whizzing by during some of the action sequences with one clearly circling my room.

FINAL ANALYSIS: This film's great for action lovers (B)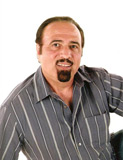 John Delia
Our senior critic John Delia has been on all sides of the movie business over his lifetime from writing for newspapers to film making. He has been a film critic for many years and earned his Bachelor's Degree in Journalism and Communications from the University of Florida. John is located in Tampa, Florida where he does free lance writing for a number of web magazines including FlickDirect. John has been recently admitted as member of the Southeastern Film Critics Association (SEFCA) made up of more than 40 journalists working in the print, radio and online media. The members represent the Southeastern sector of the United States which encompasses Alabama, Arkansas, Florida, Georgia, Louisiana, North Carolina, South Carolina, Tennessee and Virginia. Each year they honor the best achievements in cinema.
-- Read more reviews by
John Delia
Check in with friends to
Death Race 3: Inferno
with the
Movie Hype app
.
Purchase Death Race 3: Inferno at Amazon.com
For more information about Death Race 3: Inferno visit the FlickDirect Movie Database.
Artwork and photos © Universal Studios. All Rights Reserved.
What are your thoughts? Comment below, on facebook,
comments powered by

Disqus