The Lone Ranger Theatrical Review
Taking a chance on an old-timer favorite, producer and director Gore Verbinski brings a remake of The Lone Ranger to the big screen. Loosely based on the 1956 movie starring Clayton Moore and Jay Silverheels, his casting of Armie Hammer and Johnny Depp somewhat mirrors the two original players and delivers a solid hit.

The film opens at a traveling carnival with a young boy dressed as The Lone Ranger walking into a sideshow featuring memorabilia of the old west. When he comes to one particular exhibit there's a statue of a very old Indian. Watching it for a long time, all of a sudden it comes to life and calls the boy Kemo Sabe. So starts the narration of the movie of the Lone Ranger by his sidekick Tonto.

Flash back to the 1930's and we find John Reid (Armie Hammer) arriving in the old west on a train that's being hijacked by a gang to free their boss notorious killer Butch Cavendish (William Fichtner). After a terrifying ride into danger Reid gets out alive and meets up with his brother U.S. Marshall Dan (James Badge Dale) just in time to join the posse that's set out to get Cavendish. In their pursuit they meet with disaster and John Reid finds himself being thrown into graves along with the other men in the group. When a rogue Indian named Tonto (Johnny Depp) from the area's Comanche tribe comes across Reid's body and finds that he's still alive he revives him and starts up a friendship that will lead to Reid becoming the Lone Ranger.

I like the way Gore Verbinski handles the story with a dark side to his hero. He keeps his actors on a tight leash doing the best he can to keep them in character. It's not easy to keep Depp from taking a few liberties with his facial expressions and Verbinski uses them to good measure. While Hammer handles most of the dialogue, I found that Depp carries most of the movie getting Lone Ranger in and out of danger. Verbinski uses some well choreographed scenes much like he did in Pirates of the Caribbean to bring on a lot of wild action from swinging onto trains to busting through windows. Once the action starts he hardly ever puts on the brakes.

Just for laughs I went on line to view The Lone Ranger movie that was released in 1956 that starred Clayton Moore as Lone Ranger and Jay Silverheels as Tonto. I'm amazed on how similar Moore and Hammer look and if not for the wild face paint on Depp his character has a similar swagger to Silverheels. The story gets different however, in that one deals with a rancher trying to get a mountain of silver and here it's a ruthless killer trying to do the same, both aggravating the Indians to help their means to an end.

Co-producer Jerry Bruckheimer fuels the story by providing locations, excellent cinematography, outstanding make-up special effects, huge sets, stunt pros, special props and actual trains much like he did with the ships and sets in Pirates of the Caribbean to make the film action and adventure filled. With Hans Zimmer at the helm of the musical score nothing has been left to chance for a rousing production and he delivers. I especially like the playing of the William Tell Overture that was an integral part of the original television and film releases. Being Zimmer, I even detected a scene that had music very similar to Pirates of the Caribbean and made me wonder if he wanted to leave an imprint reminder in this film.

The only downside I found is that the length was 15 to 20 minutes too long. Maybe its Bruckheimer's trademark for blockbusters for which all three Pirates' films is noted. In The Lone Ranger the rambling story does promote lackluster periods that tend to make one restless. The opening where we find a boy at a carnival was cute, but only adds time to the film. I understand it sets up Tonto's narration of the story, but I found it more of pretentiousness to showing the Indian's age transformation by Academy Award®–winning make-up artist Joel Harlow (Pirates of the Caribbean). To me it is sort of a hero worship to his art rather than an integral part of the story. Just beginning the film with John Reid in the train and the wild ride that ensues would have been just fine.

The Lone Ranger has been rated PG-13 by the MPAA for sequences of intense action and violence, and some suggestive material. While the film has a strong link to teens, it's definitely a very good show for adults so don't get mislead by it rating. All three of the Pirates of the Caribbean had the same rating and this has the same no age boundary.

FINAL ANALYSIS: A very good action driven film for most everyone. (B)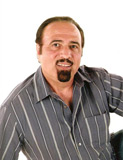 John Delia
Our senior critic John Delia has been on all sides of the movie business over his lifetime from writing for newspapers to film making. He has been a film critic for many years and earned his Bachelor's Degree in Journalism and Communications from the University of Florida. John is located in Tampa, Florida where he does free lance writing for a number of web magazines including FlickDirect. John has been recently admitted as member of the Southeastern Film Critics Association (SEFCA) made up of more than 40 journalists working in the print, radio and online media. The members represent the Southeastern sector of the United States which encompasses Alabama, Arkansas, Florida, Georgia, Louisiana, North Carolina, South Carolina, Tennessee and Virginia. Each year they honor the best achievements in cinema.
-- Read more reviews by
John Delia
Check in with friends to
The Lone Ranger
with the
Movie Hype app
.
Purchase The Lone Ranger at Amazon.com
Download
The Lone Ranger
from iTunes.
Read More Reviews For The Lone Ranger
For more information about The Lone Ranger visit the FlickDirect Movie Database.
Artwork and photos © Walt Disney Pictures. All Rights Reserved.
What are your thoughts? Comment below, on facebook,
comments powered by

Disqus