| | |
| --- | --- |
| | |
Latest Reviews
---
Weekend Box Office
---
Dark Shadows Blu-ray Review
John Delia
9/27/2012 4:20 PM EDT
Crammed with a lot of cool ghouls, wacky witchery and comedic moments the movie Dark Shadows delivers a fun movie that mature audiences will enjoy. Using Johnny Depp to his utmost bizarre performance capabilities the film delivers for fans of his past legendary roles like Edward Scissorhands, Sweeny Todd, Willy Wonka, Mad Hatter, and Jack Sparrow. This time however, he's really gone off the deep end with a wacky portrayal of Barnabas Collins, a childish vampire. Dark Shadows is now available in Blu-ray + DVD + Ultraviolet Digital Copy Combo Pack (or Blu-ray and DVD individually if you wish).

The film opens in the year 1750 with Barnabas Collins (Depp), a wealthy fish merchant chasing the beautiful Josette (Bella Heathcote) to the edge of a cliff. Being cursed for rebuking her affections the witch Angelique (Eva Green) has put a vampire spell on Barnabas. Before Barnabas can save Josette from certain death, she jumps and with tears in his eyes he joins her in a leap to the rocks below.

The film fast forwards to 1972 with the dysfunctional descendents of Collins living in Barnabas's huge residence estate that has slowly been decaying from lack of money. The town of Collinsport still exists, but just happens to be in the hands of the un-aging Angelique who has taken over the fishing industry. When Barnabas returns to life and emerges from his coffin the blood sucking begins and things start to spiral out of control for Angelique.

Typical Tim Burton his direction of the movie remake of the seventy's television series cult classic doesn't resemble more than fifteen minutes of the original weekly show, and that's a good thing. With his creativity flowing brightly, Burton makes his film original and delightfully distasteful. Using nearly every trick from his popular artistry that made Corpse Bride, Alice in Wonderland and Sweeney Todd: The Demon Barber of Fleet Street so diabolically fascinating, he moves his characters through a labyrinth of dark sequences keeping his story comical while delivering distasteful bloodletting.

Did I say Dark Shadows keeps its audience mesmerized especially for Johnny Depp lovers who just can't get enough of his brilliant egoism? I like the acting of Depp in this film and I can't see anyone other than him in the role. Much like his Edward Scissorhands and Mad Hatter performances, one goes to see him prance, befuddle, boast and most of all entertain in a way only Depp can.

The support cast does an excellent job of providing the characters needed to make Barnabas the humorous creature he delivers. Keeping it a contest, Eva Green makes her witch very demanding, sexy and menacing, especially when she wants to get her way. Turning Barnabas into a vampire is her way of punishing him for not taking her as his bride yet the choice of evil spells however, becomes her Achilles heel.

The only downside I found in Dark Shadows involves the vampire plot that's worn thin over the years with comedy spiked fantasy/horror shows like The Munsters, The Addams Family, Buffy the Vampire Killer, Fright Night, The Little Vampire and many more. That said, if you haven't had your fill of Johnny Depp, love vamp films or are a fan of the original TV show, then none of the things mentioned in this paragraph will mean a thing.

There are some cool bonus features on the discs in the Blu-ray Combo Pack:
Becoming Barnabas – Johnny Depp chats about his character and how it all gets put together. It's truly a Depp experience.
Welcome to Collinsport! – Here you can explore the set of Collinsport with its entire splendor of the past.
A Melee of Monstrous Proportions – A fun interactive special bonus feature.
Angelique: A Witch Scorned – Words and more words no matter how campy from Johnny Depp and Eva Green. It's acceptable to laugh out loud.
Reliving a Decade – Brings back the 70's in an odd and comical way.
Dark Shadowy Secrets – Props and special effects are showcased in this nice feature.
The Collinses: Every Family Has Its Demons - Johnny Depp and their co-stars chat about their characters and relationships.
Alice Cooper Rocks Collinsport! – An Alice Cooper and cast rock out!
Dark Shadows: The Legend Bites Back – A making of featuring Tim Burton.
Deleted Scenes

The bonus features in this combo pack includes something special. It's called UltraViolet where you can take the film anywhere you go and watch it on your favorite devices. It's a way you can enjoy this movie from The Cloud. The Cloud stores your digital movies and other entertainment media in an on-line library and gives you the freedom to watch your movies anywhere using your computers, tablets, smart phones and even TVs. UltraViolet gives you secure access to The Cloud and wherever you have an internet connection you can stream any video in your collection or even download a permanent copy.

The Video Quality of Dark Shadows is extremely good on the Blu-ray and DVD when played using a Blu-ray player. Produced in 1080p High Definition, it's like being in a movie theater when played on my 16X9 HD TV.

The Audio Quality with dts Master Audio plays crystal clear on my HD television. With surround speakers turned up to a nice volume level the dialogue and background music assists all the action and comedy scenes in the film.

Dark Shadows has been rated PG-13 by the MPAA for comic horror violence, sexual content, some drug use, language and smoking.

FINAL ANALYSIS: A Depp fantasy feast for his fans and mature audiences. (B)


-- John Delia
Purchase Dark Shadows at Amazon.com
Read More FlickDirect Staff Reviews About Dark Shadows
Cast:
Johnny Depp

,

Michelle Pfeiffer

,

Helena Bonham Carter

,

Chloe Moretz

,

Eva Green

,

Jackie Earle Haley

,

Gulliver McGrath
Directed by:
Tim Burton
MPAA Rating:
PG-13
Genre:
Horror
Running Time:
113 minutes
Distributed by:
Warner Bros.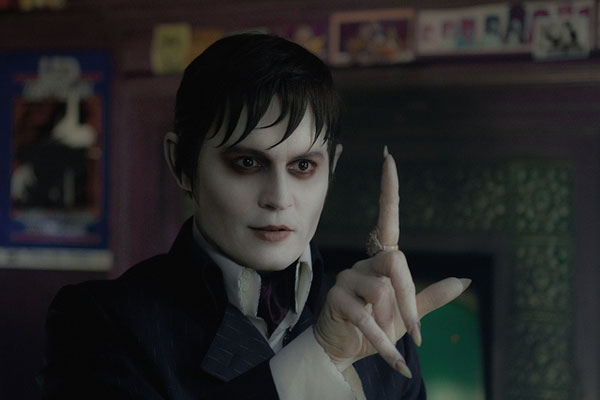 For more information about Dark Shadows visit the FlickDirect Movie Database. Blu-ray screen captures provided by Macgo Mac Blu-ray Player. Artwork and photos ©Warner Bros.. All Rights Reserved.
What are your thoughts? Comment below, on facebook,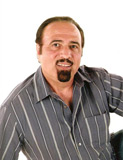 John Delia, Senior Critic
John Delia has been on all sides of the movie business from publications to film making, publicist to Assistant Director. He has been a film critic for 12 years and earned a Bachelors degree in communications from the University of Florida. He is listed in IMDb under his name
JOHN DELIA
. He free lances for a number of web magazines including FlickDirect. He is located in Florida in the Tampa Area. His interview with Benicio Del Toro received nearly 13,000 hits on youtube when Che opened and the interview with the unknown Bradley Cooper nearly 14,000 when
The Hangover
opened.He enjoys movie music, especially those from most Disney animated features.
© 2006-2013 FlickDirect, Inc. All Rights Reserved. FlickDirect™ and Flick It!™ are trademarks of FlickDirect, Inc. No part of this website may be reproduced without permission. Photos & certain artwork used on FlickDirect™ are the property of their respective owners. Studio logos & other trademarks used herein are the property of their respective owners. User-posted content, unless source quoted, is licensed under a Creative Commons Public Domain License.