| | |
| --- | --- |
| | |
Latest Reviews
---
Weekend Box Office
---
Magic Mike Theatrical Review
John Delia
6/28/2012 2:15 PM EDT
Bare bods and fast music can't save Magic Mike. Even if the ladies think they are being entertained, it's all a façade to cash in on a voyeuristic business that has clung to the sexual 90's. It may be a take on Tatum's early teen romp to fill his pockets, but the actor did better with his "Step-up" acting than he does here.

The idea for the film came from a short stint by actor Channing Tatum who worked as a male stripper in Tampa, Florida when he was a teen. Winning a pitch to Steven Soderbergh to direct the high female magnet, the co-producer even reprises his wild eyeful for the ladies. From the opening nude scene (get there early so you can get a quick peek of the actor in the raw) you just know this film's target market, ladies and gay males.

The storyline goes something like this; Magic Mike (Channing Tatum) has been slaving away to get enough money to encourage a bank loan to pay for his modern furniture business. Working days tiling roofs and evenings as a male stripper, Mike has started to get a good bundle of cash together.

One day he meets Adam (Alex Pettyfer), a down on his luck teen who has taken a position as helper on his roofing gig. Introducing the teen to the Club Xqusite, he gets him a job as a stage assistant. When one of the male performers can't go on stage after taking too much of a drug, club owner Dallas (Matthew McConaughey) takes a chance on Adam for a stand-in. Well you know where this one is going and if you saw the trailer, it's not much more than that.

Magic Mike is what I call a 20 minute film, one that starts out great for the first 20 minutes then becomes so repetitive that by the time the last 20 minutes comes along you already know what's going to happen in the end. Will the eye candy for the ladies be enough to carry the film beyond one sumptuous weekend? I really don't think it will even carry the cost of making the film from what I witnessed at a recent pre-screening of the movie in front of 300 women. Following the opening shock wave going through the audience of seeing Channing Tatum's bare butt, the initial strip show with the gents showing more sexual gestures than their hot bods and some bedroom action the vibe mellowed, then fell flat.

The acting here sucked and could have been handled by any ripped guy with some stage experience. In fact, a few Chippendales would have helped the film a lot as the chorography lacked realism even for the cheapest dives in most inner cities. As far as the female love interest Brooke, Cody Horn is totally miscast to take on the likes of Channing Tatum. Costumed in frumpy clothes, coached to be a coy innocent and surrounded by a myriad of lustful women, Horn looked lost.

Magic Mike has been rated R by the MPAA for pervasive sexual content, brief graphic nudity, language and some drug use. Women may want to get to the movie a little early for a good seat, leave their significant other at home and group with several ladies if they want to get the full effect of this overly hyped illusion.

FINAL ANALYSIS: Ladies save your 1-dollar bills for the real thing. (D)

-- John Delia
Purchase Magic Mike at Amazon.com
Read More FlickDirect Staff Reviews About Magic Mike
Cast:
Channing Tatum

,

Alex Pettyfer

,

Matthew McConaughey

,

Cody Horn

,

Olivia Munn

,

Matthew Bomer

,

Riley Keough

,

Joe Manganiello

,

Kevin Nash

,

Adam Rodriguez
Directed by:
Steven Soderbergh
MPAA Rating:
R
Genre:
Comedy
Running Time:
110 minutes
Distributed by:
Warner Bros.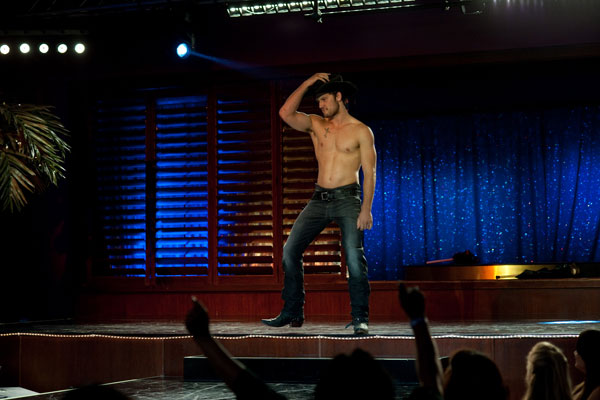 For more information about Magic Mike visit the FlickDirect Movie Database. Artwork and photos ©Warner Bros.. All Rights Reserved.
What are your thoughts? Comment below, on facebook,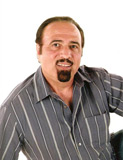 John Delia, Senior Critic
John Delia has been on all sides of the movie business from publications to film making, publicist to Assistant Director. He has been a film critic for 12 years and earned a Bachelors degree in communications from the University of Florida. He is listed in IMDb under his name
JOHN DELIA
. He free lances for a number of web magazines including FlickDirect. He is located in Florida in the Tampa Area. His interview with Benicio Del Toro received nearly 13,000 hits on youtube when Che opened and the interview with the unknown Bradley Cooper nearly 14,000 when
The Hangover
opened.He enjoys movie music, especially those from most Disney animated features.
© 2006-2013 FlickDirect, Inc. All Rights Reserved. FlickDirect™ and Flick It!™ are trademarks of FlickDirect, Inc. No part of this website may be reproduced without permission. Photos & certain artwork used on FlickDirect™ are the property of their respective owners. Studio logos & other trademarks used herein are the property of their respective owners. User-posted content, unless source quoted, is licensed under a Creative Commons Public Domain License.