Synopsis
---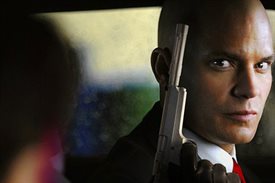 Agent 47 (Timothy Olyphant) has been educated to become a professional assassin for hire, whose most powerful weapons are his nerve and a resolute pride in his work. 47 is both the last two digits of his barcode tattoo and his only name. The hunter becomes the hunted when 47 gets caught up in a political takeover. Both Interpol and the Russian military chase the hitman across Eastern Europe as he tries to find out who set him up and why they're trying to take him out of the game. But the greatest threat to 47's survival may be the stirrings of his conscience and the unfamiliar emotions aroused in him by a beautiful, damaged girl.
Purchase your copy of Hitman today at
Download Hitman from iTunes.
Comments
Courtesy of
Movie Hype App
---
tattoosav
??
3/23/2014 4:55 AM EDT
eric
looks good
3/5/2014 8:20 AM EDT
Hitman images are © 20th Century Fox. All Rights Reserved.