Branagh Out as "Thor 2" Director
6/30/2011 5:06 PM EDT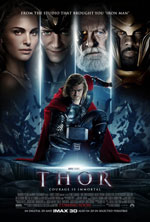 It has been reported that "Thor 2" is a definite "go" for Marvel Studios. Kenneth Branagh, however, won't be returning to direct the flick.
The film, which grossed $437 million dollars, will have some involvement of Branagh, but currently, a new director is being sought out. Chris Helm will be returning to reprise his role.
A release date for "Thor 2" will be finalized by today by Disney.
What are your thoughts? Comment below, on facebook,
© 2006-2013 FlickDirect, Inc. All Rights Reserved. FlickDirect™ and Flick It!™ are trademarks of FlickDirect, Inc. No part of this website may be reproduced without permission. Photos & certain artwork used on FlickDirect™ are the property of their respective owners. Studio logos & other trademarks used herein are the property of their respective owners. User-posted content, unless source quoted, is licensed under a Creative Commons Public Domain License.