| | |
| --- | --- |
| | |
Rush Hour 4 In The Works?
7/30/2012 4:45 PM EDT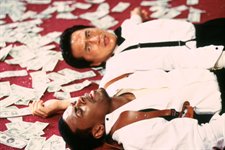 2007 was the last time Jackie Chan and Chris Tucker appeared as Lee and Carter in Rush Hour 3, but according to CraveOnline it may not be the last outing for the duo. Producer Arthur Sarkissian has said the project of another movie is very much alive and that it's not that far away from recruiting a screenwriter.
"I'm trying to do it closer to how I did Rush Hour 1. More down to earth. More gritty. Introduce two new characters and make it real the way the first one was. I personally was not happy with the third one. I thought 1 and 2 were very good. I think 3 got out of hand a little bit. It's not a matter of just bringing them back to do another segment of that or a sequel to it by putting them in another city and having them bicker. I don't want that. I want something new."
On whether director Brett Ratner would be involved in a fourth movie for the franchise, Sarkissian said "He's more than welcome to do it, but he's got to do it in the right way."
What are your thoughts? Comment below, on facebook,
© 2006-2013 FlickDirect, Inc. All Rights Reserved. FlickDirect™ and Flick It!™ are trademarks of FlickDirect, Inc. No part of this website may be reproduced without permission. Photos & certain artwork used on FlickDirect™ are the property of their respective owners. Studio logos & other trademarks used herein are the property of their respective owners. User-posted content, unless source quoted, is licensed under a Creative Commons Public Domain License.