| | |
| --- | --- |
| | |
McG and Brett Ratner on Short List To Direct Justice League Film
8/31/2012 11:07 AM EDT
Tags: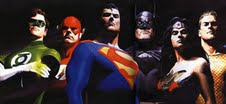 Rumors are running rampant about who will be chosen to direct the "Justice League" movie, and some fans aren't impresses with a few of the possibilities.
Some of the names on the list are The Wachowskis, Brett Ratner, Ruben Fleischer Zack Snyder and McG. While fans think Snyder and Fleischer would be able to pull off a decent film, the big question mark is apparently with McG and Ratner. McG is mostly known for music videos and Charlie's Angels Film. Ratner has done "Rush Hour" and "X-Men:Last Stand". According to fans, neither seem up up the task of creating a the best possible "Justice League" film.
There are no confirmations yet as to who is really up for the job, so we will keep you posted as the story develops.
What are your thoughts? Comment below, on facebook,
© 2006-2013 FlickDirect, Inc. All Rights Reserved. FlickDirect™ and Flick It!™ are trademarks of FlickDirect, Inc. No part of this website may be reproduced without permission. Photos & certain artwork used on FlickDirect™ are the property of their respective owners. Studio logos & other trademarks used herein are the property of their respective owners. User-posted content, unless source quoted, is licensed under a Creative Commons Public Domain License.