| | |
| --- | --- |
| | |
Brad Pitt Being Courted for Fincher's 20,000 Leagues Under the Sea
10/19/2012 2:09 PM EDT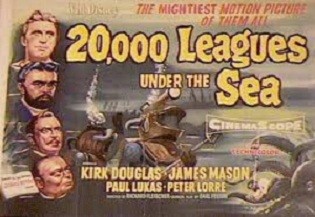 Director David Fincher is looking to get his adaption of Jules Verne's "20,000 Leagues Under the Sea" moving along for Disney.
The filmmaker had Andrew Kevin Walker rewriting the script back in November 2011, but the film still hasn't gotten the green light for production.
As far as casting, Fincher is said to be interested in having Brad Pitt to star as sailor and master harpooner Ned Land, which was portrayed by Kirk Douglas in the 1954 original. A rep for Pitt said that while nothing is for sure, he is exploring possibilities for next year's schedule, and didn't say that "20,000 Leagues" wasn't among them.
Pitt has a string of films coming up - "Killing Them Softly," "World War Z" and Ridley Scott's "The Counselor."
What are your thoughts? Comment below, on facebook,
© 2006-2013 FlickDirect, Inc. All Rights Reserved. FlickDirect™ and Flick It!™ are trademarks of FlickDirect, Inc. No part of this website may be reproduced without permission. Photos & certain artwork used on FlickDirect™ are the property of their respective owners. Studio logos & other trademarks used herein are the property of their respective owners. User-posted content, unless source quoted, is licensed under a Creative Commons Public Domain License.