| | |
| --- | --- |
| | |
David S. Goyer's New Series Comes To STARZ This April
3/16/2013 8:29 PM EDT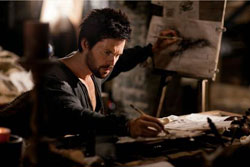 Coming to STARZ on April 12, 2013 is the action filled series Da Vinci's Demons. The Period Drama takes you into a world of historical fantasy that's not for the timid. Featuring fine acting, direction and amazing sets, the production gives an interesting vision of 15
th
Century Italy with a story that's fascinating and realistic.
Check-in to Da Vinci's Demons, with the iPhone Movie Countdown Clock App
.
The basic storyline follows Leonardo da Vinci (Tom Riley) as a brilliant young man coming to the forefront in Florence, Italy because of his ability to invent things that are extraordinary for the time. He's also a sleuth of sorts, reasoning out sticky situations much like Sherlock Holmes. His cohorts and close friends Zoroaster (Gregg Chillin) and Nico Machiavelli (Eros Vlahos) fuel his fire with support and companionship. However, the evil Lorenzo Medici (Elliot Cowan), the defector ruler of Florence, sees Leonardo only as an end to his means.
The story depicts a period of the Renaissance where change is slowing coming to Florence, Italy, but yet has not put its medieval ways behind. In the series we find a lot of sword fighting, narrow escapes, sordid love affairs, defiance's of Pope Sixtus IV of Rome, unique inventions and explosive altercations. The series doesn't hold back on 'Hollywood realism' with extensive use of sex, nudity, violence and strong language.
Creator David S. Goyer (screen writer of the Dark Knight series) follows in the footsteps of other cable productions like The Borgias, The Tudors, and Game of Thrones. He wisely makes his Da Vinci's Demons follow the same formula of good characters, lavishing sets, realistic period costumes and a lot of blood and debauchery.
Other actors in the production include; Laura Haddock as Lucrezia Donati the mistress of Lorenzo Medici, Lara Pulver as Clarice Orsini the wife of Lorenzo Medici, James Faulkner as the current Pope Sixtus IV, and Blake Ritson as the sly Count Girolamo Riario a nephew and Captain of the Guard of Pope Sixtus IV.
The series has its base of operations in Wales where they boast over 600 castles, some of which are used in the production. Production Designer Edward Thomas created the massive sets that depict the throne room and pool of the Pope, the receiving room and ballroom of Lorenzo Medici, interiors of Leonardo da Vinci's laboratory, workroom and housing quarters and many other locations of the story. Wardrobe pro Annie Symons handmade the original costumes for the actors as near depicting 1477 AD Italian era adding to the enchantment of the period drama.
The only downside comes with the accents from the actors that are mainly British taking away some of the charm and realism. Being a part of
Adjacent Productions,
BBC Worldwide Productions, I can see where their British audiences would easily accept the enunciation as we commonly do with our American diction in those films made stateside. While it doesn't completely distract, it does get hard to catch some of phrases. But, with most cable boxes, there's that awesome rewind button on your controller.
Check out the Starz website for Da Vinci's Demons for more information on the schedule at
http://www.starz.com/originals/davincisdemons
.
What are your thoughts? Comment below, on facebook,
comments powered by

Disqus