Synopsis
---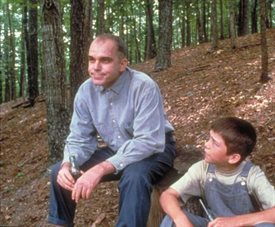 Mildly retarded killer Karl Childers (Thornton, making his feature directorial debut) is released from a mental hospital, where he was placed after killing his mother and her lover, after 25 years. Returning to his hometown, he befriends a boy (Black) with problems of his own. His mother is living with a mean, bullying drunkard (Yoakam, in a brilliant performance) who has no use for anyone, least of all mom's openly gay co-worker (Ritter). Thornton's excellent script moves at the slow pace of its hero, providing the superb cast plenty of opportunity to explore the rich characterization and dialogue. Filmed in Thornton's home state of Arkansas.
Purchase your copy of Sling Blade today at
Download Sling Blade from iTunes.
Sling Blade images are © Miramax Films. All Rights Reserved.