| | |
| --- | --- |
| | |
Latest Reviews
---
Weekend Box Office
---
Sons of Anarchy Season Two Blu-ray Review
Marco Chacon
9/20/2010 1:23 PM EDT
With Season 2 of the Sons of Anarchy we are back in the small (fictional) town of Charming where we see the Sons of Anarchy Season 2 gang as both the problem and the solution to violent crime. This muscular, motor-cycle drama keeps its Shakespearian tragedy overtones as the group hurls towards bloody, self-destruction for another knuckle-biting season. This time the bad guys are worse than we expect bad guys to be. The Sons of Anarchy Motorcycle Club are not exactly good guys, but the white supremacists that are muscling in on Charming are even worse. The Government is still sniffing around, and there are enough skeletons in the Son's own closet to keep everyone guessing where the next explosion will happen. The acting is superb with Ron Perlman continuing to bring the gravitas as the Club's aging leader. His wife, Gemma (Katey Sagal) gets to provide a powerful set of scenes where she tries to hold the Club together while she herself is falling apart. The show brings a gritty, realistic vibe to the underworld and keeps a taut pace. I can't recommend it highly enough.
The Blu-ray edition is worth every penny. The video is a 1080p AVC encoded picture that is crisp and clear and looks great in HD. You can see the facial features up close and read the texture on the leather jackets. Fox has really paid attention to presentation, and if you didn't watch it on HD when it aired, it is going to look the best you have ever seen it on disc. The audio is similarly muscular DTS-HD Master Audio 5.1 surround that gives you what you would look for from the crew's hogs. You will get excellent directional effects when the bikes cross the scene from one side of the frame to another and fully directional reports during the gunfights.
The feature with Q&A from the cast is probably the best of several features where they answer fan questions in quite a bit of detail, and you get to see the actors talk about their show. There is also a Sons of Anarchy moral code feature which, if you think about it, is key to the action; what makes the Son's interesting, is that they have a moral code unlike many of their antagonists -- even if they do not always live to it -- and it is an outlaw code anyway. There are also deleted scenes and director's commentary which you can look at if you're dedicated to all things Son of Anarchy has to offer.
Together, with its great production values, Sons of Anarchy is one of the best shows to come out of Fox, and I think one of the best on TV. In the Season 2 Blu-ray edition, it gets the presentation it deserves.
-- Marco Chacon
Purchase Sons of Anarchy Season Two at Amazon.com
Read More FlickDirect Staff Reviews About Sons of Anarchy
John Delia (B) (Sons of Anarchy Season Four Blu-ray Review)
Marco Chacon (A) (Sons of Anarchy Season One Blu-ray Review)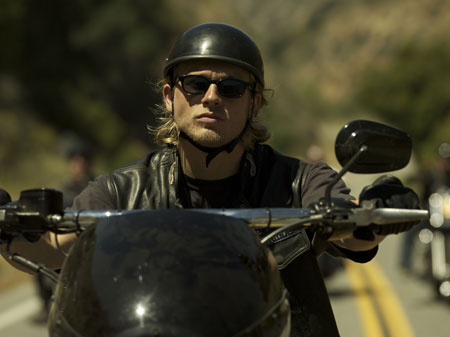 For more information about Sons of Anarchy visit the FlickDirect Movie Database. Blu-ray screen captures provided by Macgo Mac Blu-ray Player. Artwork and photos ©20th Century Fox. All Rights Reserved.
What are your thoughts? Comment below, on facebook,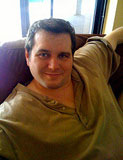 Marco Chacon, Correspondent
Marco Chacon isn't quite sure what he's doing here. Exposed to radioactive movies at a young age he has gained the proportional strength and agility of celluloid which hasn't proved good for much. However, on the Internet, it's opinion that counts (who needs facts!?) and Marco sure has one of those. Several, in fact. Some contradictory. He has written and published the
JAGS Roleplaing Gaming System
, and is still waiting for Revenge of the Jedi to come out.
© 2006-2013 FlickDirect, Inc. All Rights Reserved. FlickDirect™ and Flick It!™ are trademarks of FlickDirect, Inc. No part of this website may be reproduced without permission. Photos & certain artwork used on FlickDirect™ are the property of their respective owners. Studio logos & other trademarks used herein are the property of their respective owners. User-posted content, unless source quoted, is licensed under a Creative Commons Public Domain License.