| | |
| --- | --- |
| | |
Latest Reviews
---
Weekend Box Office
---
Wall Street Blu-ray Review
John Delia
10/15/2012 7:55 AM EDT
Delivering a well thought out look at the seedy side of stock trading, Director Oliver Stone gets down and dirty in the film Wall Street now available on a "Filmmakers Signature Series Blu-ray". The hard hitting story combined with excellent acting pushed the film to over a $43 million box-office take in 1987 and earned an Oscar and a Golden Globe for Michael Douglas's performance in the movie.

The movie centers on Bud Fox (Charlie Sheen) a rising star as a stockbroker on Wall Street. Ambitious and wanting to get ahead he joins forces with the Gordon Gekko (Michael Douglas) a master of the financial world who shows him the ropes. It's in this film that the Gekko quote "greed is good" gets coined and in no time shows what it means. Tricking Bud into a devious scheme, Gekko leads him into a career of choices that are fraudulent and career ending.

The movie has some excellent acting and both Sheen and Douglas know how to work their characters within the intriguing plot. Under the fine direction of Stone, the two personalities bond together and then are at odds when the story takes a risky turn. I like the way Douglas presents Gekko as this successful stock merchant who knows all the ropes drawing the audience in with his dapper appeal. The naïve Bud Fox has an innocent flare as the bright up and coming star of the stock market who wants to make it big in the world of trading. In that way Bud is also about greed himself wanting to take the fast track to the top and not making better choices of finding the right training to get him there. The believable chemistry between Sheen and Douglas is what makes this film work and the unsuspecting outcome more damaging.

I am a fan of Oliver Stone and have seen most all of his bigger films like Salvador, Platoon, Talk Radio, Born on the Fourth of July, JFK, Joy Luck Club, World Trade Center, Any Given Sunday and although I don't always agree with his results in some of them I do like his style of writing and directing. He's not afraid to give his opinion and presents his findings with quality filmmaking.

The Blu-ray disc has a few very good bonus features:
Audio commentary by Oliver Stone- Take advantage of Stone's explanations to walk you through some of the more challenging scenes in the film.
Greed Is Good- Here you are treated to a very detailed look at the making of "Wall Street" (about an hour). It goes into the underbelly of the how Stone got the ideas for the film from actual events.
Money Never Sleeps – The Making of Wall Street- Actually I liked this particular "making of" better than Greed is Good since it got more into how the film came together from a production stand point.
Deleted Scenes with commentary by director Oliver Stone- the scenes would not have changed the story any, but they are interesting and would not have hurt being in the film.
Fox Movie Channel presents Fox Legacy with Tom Rothman- Interesting, but more ingratiating than informative.
A special 28-page production booklet is included inside the case- The keepsake has excellent photos and is a nice memento.

The Video Quality of Wall Street remastered and produced on Blu-ray provides a good presentation of the film although (being picky now) some of the darker scenes did bother me a bit as they were not as sharp as I would have liked. Beyond this, the quality does hold up well with the Widescreen 1.85:1. Wall Street certainly entertains to its fullest in this remastered Blu-ray re-release.

The Sound Quality using the DTS-HD Master Audio 5.1 plays extremely well on my HD Television with surround sound. The dialogue comes across crystal clear and I didn't find any inaudible conversations during the film.

FINAL ANALYSIS: A sharp look at one of society's economic behaviors (B)

-- John Delia
Purchase Wall Street at Amazon.com
Cast:
Charlie Sheen

,

Tamara Tunie

,

Franklin Cover

,

Chuck Pfeiffer

,

Martin Sheen

,

Suzen Murakoshi

,

Dani Klein

,

Michael Douglas

,

Faith Geer

,

Frank Adonis

,

John Capodice

,

John C. McGinley

,

Hal Holbrook

,

James Karen

,

Leslie Lyles
Directed by:
Oliver Stone
MPAA Rating:
R
Genre:
Drama/Suspense
Running Time:
125 minutes
Distributed by:
20th Century Fox
For more information about Wall Street visit the FlickDirect Movie Database. Blu-ray screen captures provided by Macgo Mac Blu-ray Player. Artwork and photos ©20th Century Fox. All Rights Reserved.
What are your thoughts? Comment below, on facebook,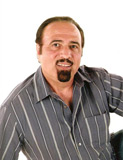 John Delia, Senior Critic
John Delia has been on all sides of the movie business from publications to film making, publicist to Assistant Director. He has been a film critic for 12 years and earned a Bachelors degree in communications from the University of Florida. He is listed in IMDb under his name
JOHN DELIA
. He free lances for a number of web magazines including FlickDirect. He is located in Florida in the Tampa Area. His interview with Benicio Del Toro received nearly 13,000 hits on youtube when Che opened and the interview with the unknown Bradley Cooper nearly 14,000 when
The Hangover
opened.He enjoys movie music, especially those from most Disney animated features.
© 2006-2013 FlickDirect, Inc. All Rights Reserved. FlickDirect™ and Flick It!™ are trademarks of FlickDirect, Inc. No part of this website may be reproduced without permission. Photos & certain artwork used on FlickDirect™ are the property of their respective owners. Studio logos & other trademarks used herein are the property of their respective owners. User-posted content, unless source quoted, is licensed under a Creative Commons Public Domain License.