| | |
| --- | --- |
| | |
Latest Reviews
---
Weekend Box Office
---
The Raven Blu-ray Review
Chris Rebholz
10/15/2012 8:09 AM EDT
"The Raven" should be a lot more entertaining than it actually is. Playing out the final days of writer Edgar Allan Poe, the movie turns the author into a detective of sorts, playing up the man's expertise with macabre situations as he races to save a damsel in distress. After all, who's more skilled at catching murderers than a man who's spent his life imagining indescribable horrors?

An arrogant drunk with some renown as a poet, Edgar Allan Poe (John Cusack) is fighting destitution, turning to criticism, the lowest form of writing, to make a living and support his upcoming marriage to Emily (Alice Eve), the daughter of Captain Hamilton (Brendan Gleeson). When strange murders begin to pop up all over Baltimore, Detective Fields (Luke Evans) discovers a connection to Poe's work, bringing the hesitant blowhard in to act as a guide into his literary history with death. With the killer using Poe's imagination as inspiration, the bodies begin to pile up, yet alarm truly sets in when Emily is kidnapped, forcing Poe to lead the charge for her safe return, teaming with Fields to understand the mind of madman who also happens to be Poe's number one fan.

The director seems to do a standard job of directing "The Raven," as the story concerns events surrounding a cloaked man with an obscured face tearing around the darkness causing major concern for officials in charge, which bears a striking similarity to the the director's 2005 effort, "V for Vendetta."

Sadly, "The Raven" is tremendously iffy material, demanding a more adventurous filmmaker willing to build a bridge between scares and period fantasy, especially with a plot that essentially turns Edgar Allan Poe into an action figure, albeit one with a drinking problem, rage issues, and an extreme distaste for competition. Still, the potential for a feature of great oddball worth is there, establishing a troubled Poe faced with the demands of heroism, saving innocents from traps patterned from sequences yanked from "The Masque of the Red Death" and "The Pit and the Pendulum." There's "The Raven" as well, Poe's most famous work, and a feathered symbol of doom the production obsessively works into most major scenes. The Poe universe is well cared for, with numerous references and respect paid to the author's work. There's just no invention emerging from director James McTeige, who submissively satisfies the basic needs of the script.

As Poe, Cusack goes very theatrical to pump life into "The Raven," carrying on like a loud, destructive bully, instilling the character with a general distaste for others, especially those unable to match his intellectual capacity. It's an irritating performance a little too dependent on yelling to introduce tension, but he's alert. The cast is also burdened with a script that doesn't give them much to do besides look frightened or act concerned. The writing dilutes the experience, dropping potentially thrilling investigative complications begging to be exploited.

Out now on a 2 disc Blu-ray, the audio/video transfer comes off quite sharp, with no apparent loss overall. If anything it adds a little to the morose Baltimore setting. Along with the Blu-ray version on the first disc, there are solid number of extras including: audio commentary from the director and producer, deleted/extended scenes, a look at the life and works of Poe, a behind-the-scenes documentary, a look at the music for the film and a look at how they brought some of the more gory scenes to life.

"The Raven" doesn't provide much excitement or mystery, electing a more customary route of serial killer analysis. Despite an enticing invitation to mount a rowdy adventure with a legendary figure of horror, the film remains disappointingly conventional.
Purchase The Raven at Amazon.com
Read More FlickDirect Staff Reviews About The Raven
Cast:
John Cusack

,

Luke Evans

,

Brendan Gleeson

,

Alice Eve

,

Oliver Jackson-Cohen
Directed by:
James McTeigue
MPAA Rating:
R
Genre:
Drama/Suspense, Horror
Running Time:
103 minutes
Distributed by:
Relativity Media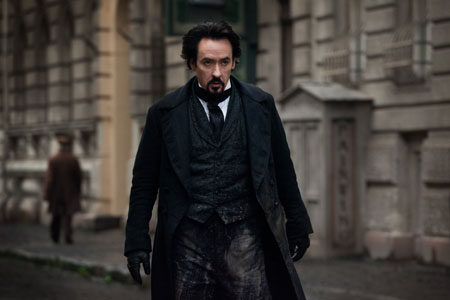 For more information about The Raven visit the FlickDirect Movie Database. Blu-ray screen captures provided by Macgo Mac Blu-ray Player. Artwork and photos ©Relativity Media. All Rights Reserved.
What are your thoughts? Comment below, on facebook,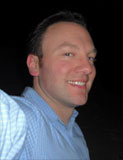 Chris Rebholz, Senior Critic
When Chris was but a wee lad growing up in the slums of suburban New Jersey, he happened to rent a little movie called
Tron
. Then his head exploded. It was at the moment that he realized that he loved movies, and since then Chris has made it a habit of renting movies, going to the movies, discussing his favorite movies, and anything else in between when it comes to that genre. It has been Chris's passion and hobby for years now and will be for years to come.
© 2006-2013 FlickDirect, Inc. All Rights Reserved. FlickDirect™ and Flick It!™ are trademarks of FlickDirect, Inc. No part of this website may be reproduced without permission. Photos & certain artwork used on FlickDirect™ are the property of their respective owners. Studio logos & other trademarks used herein are the property of their respective owners. User-posted content, unless source quoted, is licensed under a Creative Commons Public Domain License.