| | |
| --- | --- |
| | |
Latest Reviews
---
Weekend Box Office
---
Men in Black III Theatrical Review
John Delia
5/24/2012 2:18 PM EDT
After squirming in my seat trying to get more comfortable several times I began to realize that there's something wrong with Men in Black 3, it drones, creating a lackadaisical mood that destroys any comical stimulus. That said, the film however reeks with plot, silly alien characters and amazing guns and gadgets. But, the glitz and glitter aren't enough to carry the third edition of the single film winning franchise.



Check in with friends

to

Men in Black III

with the Movie Clock app.

Get it now for FREE!

In this episode of the alien fighting special government bureau we find K (Tommy Lee Jones) and J (Will Smith) going about their business breaking up alien trafficking, busting illegal 'space alien' businesses and covering up their findings using the neuralyzer. In the meantime the dastardly Boris the Animal (Jermaine Clement) busts out of the intergalactic prison where he has been for the last 40 years following capture and dismemberment by K back in the 1960's.

Returning to Earth, Boris wants revenge and he uses a special time-travel gadget to get him back to the time where he had the run in with K. His intention is to kill K before he gets his arm cut off and captured so he will be whole again to take over Earth. When J finds out that K has gone missing he finds a way to time-travel a day earlier in an attempt to save K.

Smith and Jones are on their mark with reenacting the two memorable characters from Men in Black 1, but the retread quickly becomes weak and repetitive rather than fun and edgy. Sure you may say that when creating a sequel the characters should be the same, but that's not the problem here, it's seeing them do the same old things. The memory erase gadget gets overused, the aliens predictably get splattered all over the place, too many repeat one liner gags from episodes one and two that bring about yawns and the comedic chemistry that made the first one great is just not there.

Josh Brolin adds a breath of fresh air doing some excellent deadpan comedy, but the short-lived sequence just can't carry the film. Maybe it's the predictability, slow sleep inducing plot development, trite romance between K and O and extreme nonsense that makes Men in Black 3 loose its edge early and never recovers.

As far as the production quality, if you are going to see the film, upgrade your experience with 3D. MIB3 plays it's best with some 'coming at ya' excitement that enhances the film with jaw dropping special effects. Other suggestions include a good night's sleep the night before, a cold drink by your side, wacky friends that will laugh at anything and a wallet full of bucks to burn.

The film is rated PG-13 by the MPAA for sci-fi action violence, and brief suggestive content. The science fiction violence should not be a problem for the tweens if they are gamers.

FINAL ANALYSIS: For fans of the MIB series, you may want to wait for the Blu-ray. (D)

-- John Delia
Purchase Men in Black III at Amazon.com
Cast:
Will Smith

,

Tommy Lee Jones

,

Josh Brolin

,

Sacha Baron Cohen

,

Jemaine Clement
Directed by:
Barry Sonnenfeld
MPAA Rating:
PG-13
Genre:
Sci-Fi/Fantasy, Comedy
Running Time:
106 minutes
Distributed by:
Columbia Pictures
For more information about Men in Black III visit the FlickDirect Movie Database. Artwork and photos ©Columbia Pictures. All Rights Reserved.
What are your thoughts? Comment below, on facebook,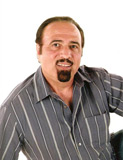 John Delia, Senior Critic
John Delia has been on all sides of the movie business from publications to film making, publicist to Assistant Director. He has been a film critic for 12 years and earned a Bachelors degree in communications from the University of Florida. He is listed in IMDb under his name
JOHN DELIA
. He free lances for a number of web magazines including FlickDirect. He is located in Florida in the Tampa Area. His interview with Benicio Del Toro received nearly 13,000 hits on youtube when Che opened and the interview with the unknown Bradley Cooper nearly 14,000 when
The Hangover
opened.He enjoys movie music, especially those from most Disney animated features.
© 2006-2013 FlickDirect, Inc. All Rights Reserved. FlickDirect™ and Flick It!™ are trademarks of FlickDirect, Inc. No part of this website may be reproduced without permission. Photos & certain artwork used on FlickDirect™ are the property of their respective owners. Studio logos & other trademarks used herein are the property of their respective owners. User-posted content, unless source quoted, is licensed under a Creative Commons Public Domain License.