| | |
| --- | --- |
| | |
Latest Reviews
---
Weekend Box Office
---
Wreck-It Ralph Theatrical Review
John Delia
11/1/2012 8:39 AM EDT
Whether you've ever heard of the video game "Fix-It Felix" or played it when you were young, Wreck It Ralph provides a fun time in this adventure for the whole family. Filled with action and comedy the animated film grabs you from the start and involves you in a tale of wonderment and hope. From sassy to sinister, clumsy to crusher the characters are likable and engaging.

Ralph (John C. Reilly) has been toiling in the game "Fix-It Felix" for years never getting the recognition he deserves for his part in entertaining youngsters. Each day as the machines get turned off and the owner of the video arcade leaves, the tenants of their tall apartment house in the video game go to the roof. Here they make a presentation to Felix (Jack McBrayer) the repairman while Ralph gets tossed off onto the ground. On this one occasion however, a private party is being held to celebrate 30 years of the game while uninvited Ralph wanders off to the pile of bricks he made from tearing down the building.

Forlorn and hoping that he could be a good guy by night, Ralph barges into the private party where his clumsiness and size makes a mess of things. Still determined to be the star he goes looking for a game that will accept him for himself. When he bumps into Vanellope (Sarah Silverman) in the "Sugar Rush" game and finds she happens to have a similar problem, they team up to find a way to change everything.

The film moves along at a fast pace with Ralph getting help from "Hero's Duty" Sergeant Calhoun (Jane Lynch) who helps the Wreck-it man when creepy cyber bugs attack in "Sugar Rush". Here the action mounts with Calhoun and her platoon taking lead knocking off the treacherous bugs while Ralph and Vanellope work out their troubles.

The very imaginative script under the helm of director Rich Moore (The Simpsons Movie) gets played out extremely well keeping even the littlest of moviegoers intrigued and laughing. He works in more aggressive characters for us older folks adding another level to the story so the whole family benefits. Choosing familiar voices like that of John C. Reilly as Ralph and Jayne Lynch playing the tough Sergeant Calhoun creates a lot of chuckles when they are on screen in their animated characters.

In my estimation however, Sarah Silverman takes the medal for the most hilarious character in animation, Vanellope. This cute little girl with the sassy personality steals the show. Keeping the funny remarks at a high level throughout the film, it's hard to take your eyes and ears off the impudent youngster and not crack a smile. Personality wise a dead ringer for little Agnes from Despicable Me, the character Vanellope easily wins the audience over with her big eyes and lovable charm.

The game representations are extremely good showing most of the characters that were the forerunners of arcade machines. Characters like Q*bert, Pac Man, Mario, Kong, Frog, Sonic, and many more have dropped the pixels and are brought to life in smooth CGI. While they are not the center of the film, they add the nostalgia for most of us who have put an amazing amount of quarters in their coin slots.

Wreck-it Ralph has been rated PG for some rude humor and mild action/violence. Be sure not to watch too many of the different movie trailers that are available on line or you will get a little too much information that may spoil the surprises.

FINAL ANALYSIS: A terrific family adventure with a nostalgic blast. (A)

-- John Delia
Purchase Wreck-It Ralph at Amazon.com
Read More FlickDirect Staff Reviews About Wreck-It Ralph
Cast:
John C. Reilly

,

Sarah Silverman

,

Jack McBrayer

,

Jane Lynch
Directed by:
Rich Moore
MPAA Rating:
PG
Genre:
Animation/Family
Running Time:
123 minutes
Distributed by:
Walt Disney Pictures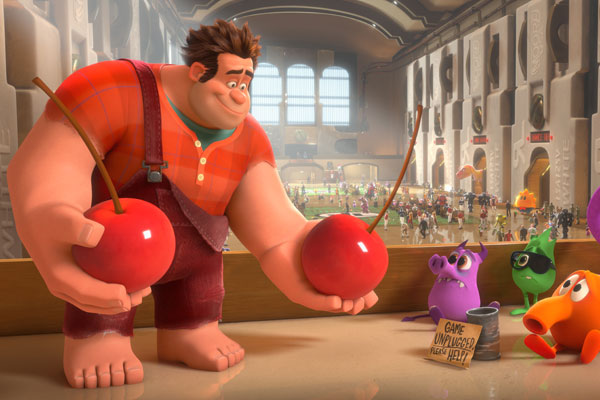 For more information about Wreck-It Ralph visit the FlickDirect Movie Database. Artwork and photos ©Walt Disney Pictures. All Rights Reserved.
What are your thoughts? Comment below, on facebook,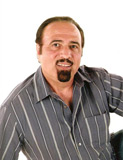 John Delia, Senior Critic
John Delia has been on all sides of the movie business from publications to film making, publicist to Assistant Director. He has been a film critic for 12 years and earned a Bachelors degree in communications from the University of Florida. He is listed in IMDb under his name
JOHN DELIA
. He free lances for a number of web magazines including FlickDirect. He is located in Florida in the Tampa Area. His interview with Benicio Del Toro received nearly 13,000 hits on youtube when Che opened and the interview with the unknown Bradley Cooper nearly 14,000 when
The Hangover
opened.He enjoys movie music, especially those from most Disney animated features.
© 2006-2013 FlickDirect, Inc. All Rights Reserved. FlickDirect™ and Flick It!™ are trademarks of FlickDirect, Inc. No part of this website may be reproduced without permission. Photos & certain artwork used on FlickDirect™ are the property of their respective owners. Studio logos & other trademarks used herein are the property of their respective owners. User-posted content, unless source quoted, is licensed under a Creative Commons Public Domain License.