Director:

Christopher Nolan

Writers:

David Goyer, Christopher Nolan

Cast:

Christian Bale

,

Michael Caine

,

Liam Neeson

,

Morgan Freeman

,

Gary Oldman

,

Ken Watanabe

,

Katie Holmes

,

Cillian Murphy

,

Tom Wilkinson

,

Rutger Hauer

Released:
Wednesday, June 15, 2005
Length:
120 minutes
Studio:
Warner Bros.
Genre:
Action/Adventure
Rating:
Some material may be inappropriate for children under 13.
Synopsis
---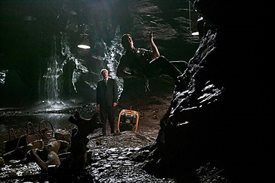 As a young boy, Bruce Wayne watched in horror as his millionaire parents were slain in front of him--a trauma that leads him to become obsessed with revenge. But the opportunity to avenge his parent's deaths is cruelly taken away from him by fate. Fleeing to the East, where he seeks counsel with the dangerous but honorable ninja cult leader known as Ra's Al-Ghul, Bruce returns to his now decaying Gotham City, which is overrun by organized crime and other dangerous individuals manipulating the system. Meanwhile, Bruce is slowly being swindled out of Wayne Industries, the company he inherited. The discovery of a cave under his mansion, along with a prototype armored suit, leads him to assume a new persona, one which will strike fear into the hearts of men who do wrong; he becomes Batman!!! In the new guise, and with the help of rising cop Jim Gordon, Batman sets out to take down the various nefarious schemes in motion by individuals such as mafia don Falcone, the twisted doctor/drug dealer Jonathan 'The Scarecrow' Crane, and a mysterious third party that is quite familiar with Wayne and waiting to strike when the time is right.
Purchase your copy of Batman Begins today at
Download Batman Begins from iTunes.
Comments
Courtesy of
Movie Hype App
---
nrose101
The comic book trilogy all comic book movies should strive to be.
6/5/2014 10:11 PM EDT
jiz_khalifaa
Awesome movie 9/10
10/17/2013 2:28 PM EDT
almrzoki11
Wawwww
10/6/2013 7:26 PM EDT
huda
Huda
9/29/2013 8:37 AM EDT
fãfã
Interesting
9/3/2013 3:48 PM EDT
Batman Begins images are © Warner Bros.. All Rights Reserved.