"Hangover" 3 In the Works
6/2/2011 4:23 PM EDT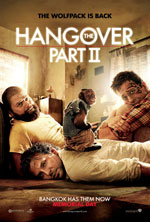 The popularity of the two "Hangover" films has prompted a third to be written.
Craig Mazin will be writing the next installment, just as he did with the first two (Scot Armstong co-wrote part II). "Hangover II", released by Warner Bros., grossed over $205 million since opening last Thursday. It was their best comedy premiere to date.
Mazin also penned "Scary Movie 3" and Scary Movie 4".
What are your thoughts? Comment below, on facebook,
© 2006-2013 FlickDirect, Inc. All Rights Reserved. FlickDirect™ and Flick It!™ are trademarks of FlickDirect, Inc. No part of this website may be reproduced without permission. Photos & certain artwork used on FlickDirect™ are the property of their respective owners. Studio logos & other trademarks used herein are the property of their respective owners. User-posted content, unless source quoted, is licensed under a Creative Commons Public Domain License.