Teenage Mutant Ninja Turtles Film Shutdown
6/15/2012 3:55 PM EDT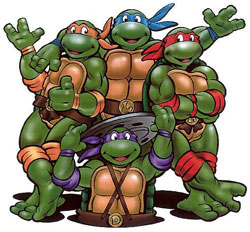 Teenage Mutant Ninja Turtle fans will be disappointed to hear that the upcoming film has been shut down. For now, at least.
There are reportedly some issues with the script. Originally, the film was slated for a December 2013 release. But now, it's looking more like May 2014. There are no comments confirming any reasons for the shutdown or if it will be indefinite or not.
What are your thoughts? Comment below, on facebook,
© 2006-2013 FlickDirect, Inc. All Rights Reserved. FlickDirect™ and Flick It!™ are trademarks of FlickDirect, Inc. No part of this website may be reproduced without permission. Photos & certain artwork used on FlickDirect™ are the property of their respective owners. Studio logos & other trademarks used herein are the property of their respective owners. User-posted content, unless source quoted, is licensed under a Creative Commons Public Domain License.