| | |
| --- | --- |
| | |
Dark Knight Controversy on Rotten Tomatoes
7/18/2012 10:12 AM EDT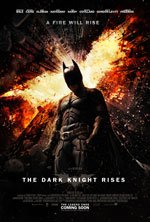 Quite a stir has arisen over comments made regarding
The Dark Knight Rises
on RottenTomatoes.
com.
Warner Bros. owns both the Rotten Tomatoes website as well as "The Dark Knight Rises". The studio has now been put in a position to defend critics of their film. Apparently, there were some reviewers who did not like the film, and readers of Rotten Tomatoes made it loud and clear that they were furious about the negative reviews.

The comments aimed towards the reviewers were so brutal that Rotten Tomatoes has, for the first time ever, suspended user comments. Matt Atchity, the Site's Editor-in-Chief, said, "It just has to be too much hate..."

Even with the bad reviews, the film has an overall 84% positive rate on the site.
What are your thoughts? Comment below, on facebook,
© 2006-2013 FlickDirect, Inc. All Rights Reserved. FlickDirect™ and Flick It!™ are trademarks of FlickDirect, Inc. No part of this website may be reproduced without permission. Photos & certain artwork used on FlickDirect™ are the property of their respective owners. Studio logos & other trademarks used herein are the property of their respective owners. User-posted content, unless source quoted, is licensed under a Creative Commons Public Domain License.