| | |
| --- | --- |
| | |
Prometheus Sequel In the Works
8/2/2012 9:27 AM EDT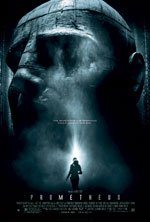 Even before Ridley Scott had made the last cut of "Prometheus" there was talk of a sequel to the yet unreleased movie. Some of those rumors may have even been coming from within 20th Century Fox themselves, but now The Hollywood Reporter is confirming that there will indeed be a follow up movie although we will have to wait until 2014 or 2015 before we get to see it.
The report says that the studio is in talks with various screenwriters which may lead to speculation that Damon Lindelof may not be the preferred choice. Starring once again will be Michael Fassbender and Noomi Rapace reprising their roles of David and Elizabeth Shaw.
"Prometheus" is arguably one of the best movies of the year, telling the story of a group of scientists on-board the spaceship Prometheus looking for alien life forms and hoping to answer mankind's most intriguing question.
What are your thoughts? Comment below, on facebook,
© 2006-2013 FlickDirect, Inc. All Rights Reserved. FlickDirect™ and Flick It!™ are trademarks of FlickDirect, Inc. No part of this website may be reproduced without permission. Photos & certain artwork used on FlickDirect™ are the property of their respective owners. Studio logos & other trademarks used herein are the property of their respective owners. User-posted content, unless source quoted, is licensed under a Creative Commons Public Domain License.