| | |
| --- | --- |
| | |
HBO GO Releases Bonus Clip from True Blood Season Finale
8/27/2012 1:54 PM EDT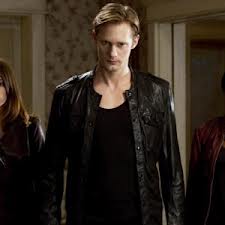 The season finale for "True Blood" aired last night, leaving many questions unanswered. The main question being "Where is Warlow?"
HBO GO released a bonus clip which hints as to where the direction of the 6th season will be going. The scene shows Jason, Pam, Nora, Tara and Jessica all in the elevator after parting ways from Eric and Sookie. Jason begins seeing his parents again, and they are congratulating him on how many vampires he has killed, and that they perhaps he could take out the four that are in the elevator with him. Jason snaps out if it when the elevator reaches their destination, and he says "I'm coming for you, Warlow". Nora quickly takes notice and says, "Warlow? What do you know about Warlow?"
So, the Warlow story will be going deep, one suspects. Eric must know who Warlow is if Nora does, right? Will we find out if there is a connection between Eric and Sookie's fairy ancestors, like there is the books? Looks like we will have a long year of waiting ahead of us.
What are your thoughts? Comment below, on facebook,
© 2006-2013 FlickDirect, Inc. All Rights Reserved. FlickDirect™ and Flick It!™ are trademarks of FlickDirect, Inc. No part of this website may be reproduced without permission. Photos & certain artwork used on FlickDirect™ are the property of their respective owners. Studio logos & other trademarks used herein are the property of their respective owners. User-posted content, unless source quoted, is licensed under a Creative Commons Public Domain License.