| | |
| --- | --- |
| | |
Fox Still Owns The Rights To Original Star Wars Films
11/1/2012 11:50 AM EDT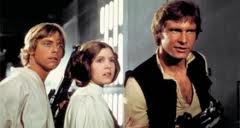 News hit the world about Disney acquiring "Star Wars" from George Lucas with a lot of various reactions. Mostly, it seemed that "Star Wars" fans were worried about where Disney would go with the franchise.
However, it may comfort those fans to know that 20th Century Fox owns the distribution rights to the original 1977 "Star Wars" film, as well as the theatrical, nontheatrical and home video rights worldwide to the other five films in the series through May 2020. All this means that Disney wouldn't be able to issue a complete saga unless they make some sort of deal with Fox.
Fox will still be releasing 3D versions of "Attack of the Clones" and "Revenge of the Sith" next Fall.
What are your thoughts? Comment below, on facebook,
© 2006-2013 FlickDirect, Inc. All Rights Reserved. FlickDirect™ and Flick It!™ are trademarks of FlickDirect, Inc. No part of this website may be reproduced without permission. Photos & certain artwork used on FlickDirect™ are the property of their respective owners. Studio logos & other trademarks used herein are the property of their respective owners. User-posted content, unless source quoted, is licensed under a Creative Commons Public Domain License.